Originally posted by 1320racer:
Haters gonna hate!
same few nobodies that ain't got shyt nor done shyt worth talking about show up with their panties in a wad because their program sucks and I told them so as does their advice. Talk about what you know, not what you think you know!!
Meanwhile the photos, the videos, the accolades of my bad ass rides makes them jealous, makes them angry and leaves them feeling as they should, questioning what they think they know and believe to be true.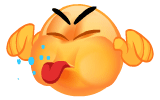 Anytime one of these losers think they have the skills and the car, all they need to do is show up, pay up and line up, it's that's easy!