I would not think that your tuning is over when you get things back. In fact, I've found that dyno tuning is just relative. Ive spent time years ago playing on them only to find on the track, were you plan to race, is the best to get the car dialed in.
For instance if you run a scoop - there is a difference that is tough to simulate on a dyno.
I personally would save the money and do it in person at the track. All you need is logic, time slip and 02 readings or plug readings to get you dialed in.
With EFI cars, I could get mine dialed in within 5 runs and never touch it again. If you invested the money on racepak you too should be able to do it vs just a sheet of paper. I compare it to running on a treadmill and thinking real life running off one is the same.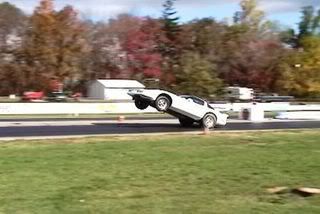 Configuration: 3350#, 555 C.I.,

60 - 1.24
1/8 - 5.69@ 123MPH
1/4 - 9.03& 152MPH

3700#+210lb driver, FULL interior, through mufflers, 10.5 tire.
60'-1.333 (IN 4000ft DA! Joisy Math excluded; 1.25sec using JOISY MATH.)


1/4 - 9.60@144MPH