Bracket Talk
Spring Fling Vegas Million - LIVE FEED & Results
March 23, 2021, 09:35 AM
DragRaceResults
Spring Fling Vegas Million - LIVE FEED & Results
Racing action in Las Vegas kicks off Tuesday afternoon with the Todd's Extreme Dragster Shootout and continues all week. We will have the Live Feed links right here and on the home page with chat.
March 23, 2021, 09:54 PM
M120
Congrats to Cory G for the win tonight!
Good job

March 24, 2021, 06:32 AM
pauley
torq was working that tire gauge for the W
ep-good job
March 24, 2021, 06:55 AM
Holytown
Anyone know where we enter this calcutta? Or is it something that is at the track only?
March 24, 2021, 07:35 AM
DragRaceResults
LAS VEGAS – The K&N Spring Fling Million presented by Optima Batteries raced into action Tuesday with three rounds of FST Carburetor Time Trials. Over 400 of the nation's best bracket racers made practice runs throughout the day.
Racers from across the country descended on the Strip at Las Vegas Motor Speedway for the legendary Spring Fling Million. Beautiful skies and a stiff headwind greeted racers as they refined their setups for the upcoming races scheduled for the next several days.
In addition to FST Time Trial Tuesday, 32 racers competed in the American Race Cars / Todd's Extreme Paint Dragster Shootout. The winner would receive the American rolling dragster valued at over $40,000. The dragster included top of the line components along with a Todd's Extreme custom paint job. The Shootout runner-up would receive an entry into Friday's Spring Fling Million.
Eight competitors reached round three of the Dragster Shootout including Val Torres Jr., Trey Vetter, Cory Gulitti, Mark Barnhart, Gary Williams, Shane Thompson, Rodney Snider, and Tim Markogly. Torres used a .014-pack to move past Vetter and Gulitti won a double-breakout over Barnhart after both racers were .00x at the tree. Williams used a holeshot to turn back Thompson after both posted dead-on the dial passes. The lone door car of Rodney Snider was .010 dead nine to turn back the dead zero lap of Markogly.
Torres and Gulitti opened the semifinal round with a great race. Gulitti moved into the final after laying down .005 total! Val was .006 behind at the stripe with a .012 light and a -.001 under 4.749 to Cory's dead on 4.522. Snider turned it -.003 red to advance Williams who posted a 4.66 on his 4.71 dial.
The final was sure to be exciting as Gulitti and Williams are both outstanding racers that tend to drive the top-end. Williams grabbed a small .004 to .009 lead off the line but it would be Cory Gulitti taking the double-breakout victory which saw both racers pedaling heavily down track. Cory's 4.516 on his 4.52 dial was slightly better than Gary's -.014 under 4.696 (4.71 dial) which secured the American dragster.
Shortly after the Dragster Shootout final, time trials concluded for the day. Next on tap is the Maytag/Silver State Refrigeration Wednesday $30K. Racing begins at 8am on Wednesday with the Gearwrench Pro Class kicking off eliminations
This message has been edited. Last edited by: DragRaceResults,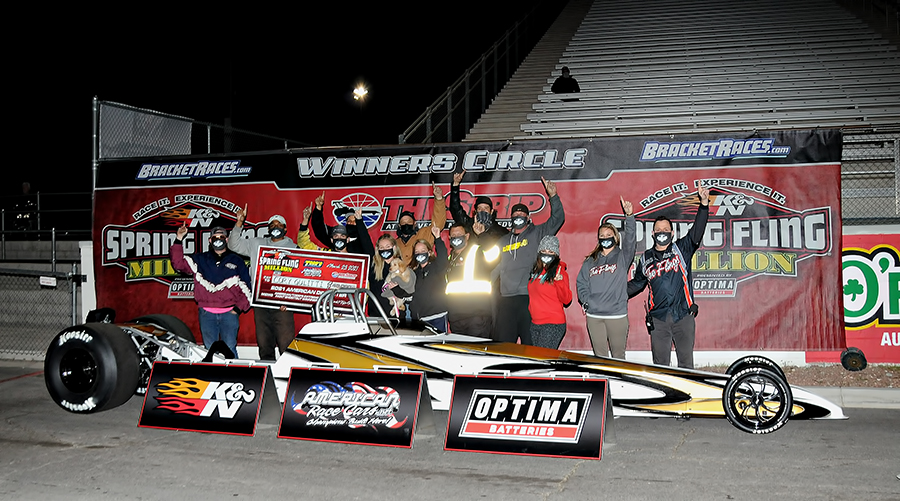 March 24, 2021, 07:35 AM
DragRaceResults
March 24, 2021, 09:37 AM
BP758
Off to a great start I see!



Raceless in California!
March 25, 2021, 04:36 AM
442OLDS
Big congrats to Randi Lyn Shipp on the Runner Up yesterday.
Andy Schmall with the win.
March 25, 2021, 08:08 AM
DragRaceResults
LAS VEGAS – Day two of the K&N Spring Fling Million presented by Optima Batteries saw over 400 racers battle for the Silverstate Refrigeration $30,000 trophy. With time trials completed on Tuesday, Wednesday opened at 8.30am with first round of eliminations in the Gearwrench Pro class.
After battling a stiff headwind on Tuesday, the wind swirled early on Wednesday before eventually growing still late in the day. The everchanging weather challenged the huge field of 429 entries that made the first-round call. The talented field, which included racers from over 30 states, battled throughout the day for a shot at a $30,000 payday.
As day turned to night, the field narrowed quickly with only ten racers advancing to round seven. Andy Schmall and Dennis Paz opened the round with the Gearwrench Pro class final. The winner would earn a $500 bonus and would join the Super Pro class in the quarterfinals.
Schmall used a .017 light and a one over 6.181 to turn back Paz who was .030 at the tree and -.003 under his 6.98 dial. Schmall, no stranger to big money finals, earned the bonus and advanced to the final five in the Silverstate Refrigeration $30K.
On the Super Pro ladder, Tuesday's Shootout runner-up Gary Williams made up two of the final eight entries. The remaining competitors included Randi Lyn Shipp, Bill Botelho, Phil Unruh, Tim O'Moore, Bobby Dye Jr., and Cooper Chun.
In the opening pair of round seven in Super Pro, Williams turned it red to Shipp. Bill Botelho advanced in his Grand Am when Phil Unruh left -.010 early in his roadster. Tim O'Moore, coming off a huge victory over Hunter Patton in round six, used a .002 to .036 reaction time advantage to defeat Dye who broke out in the loss. In his second entry, Williams paired a one over 4.891 to a .015 light to stop Chun.
The quarterfinal round opened with Randi Lyn and Gary Williams going head to head once again. For the second consecutive round, Shipp advanced when her .004 to .020 reaction time was good after both racers were one over their respective dial-ins. Schmall represented the bottom bulb crowd well after driving his Beretta past Botelho. Andy laid down .006 total beside Botelho's .019 light and dead on 4.94 lap. Tim O'Moore earned the bye to advance to the semifinals.
In the semifinal round, Schmall earned the bye to the final courtesy of his .002 reaction in the quarterfinals. In the other pairing, Randy Lyn posted another .004 light to advance to the final. Her .004 dead eight lap more than handled O'Moore's .014 reaction and .02 above 5.356 effort.
In a classic door car versus dragster final, bottom bulb racer Andy Schmall grabbed a .015 to .039 advantage at the hit. As they moved down track, Schmall's 6.144 on his 6.14 dial was more than enough to stop Shipp's -.005 under 4.515 lap.
With the victory, Andy Schmall earned the first Spring Fling Million trophy of the week along with a custom Spring Fling Sparco driving jacket and a $30,000 payday!
Racing continues tomorrow with the Moser Engineering Thursday $30K as we move closer the to the Friday Spring Fling Million main event.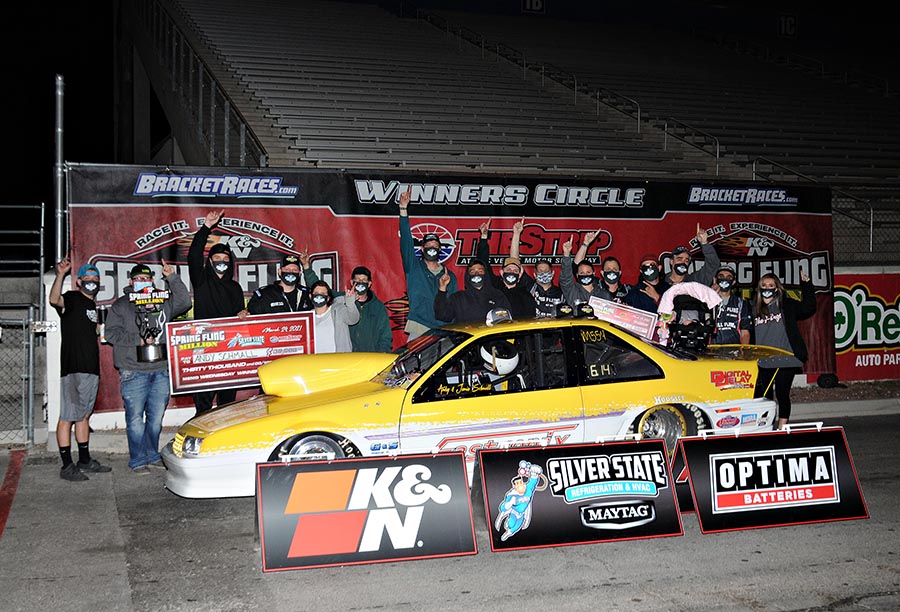 March 25, 2021, 08:10 AM
DragRaceResults
March 25, 2021, 08:22 AM
Lenny5160
Andy is a bad, bad man. Especially when the stakes are high.


Tony Leonard
March 25, 2021, 11:49 AM
vetman
cograts to my favorite bottom bulb opponent Andy Small great job buddy


The difference between ignorance and stupidity. Ignorance is lack of knowledge. Stupidity is the inability to learn. Don't be stupid
March 25, 2021, 02:37 PM
B KING
It's nice to see a Pro car win it all, Congrats!
1980 Camaro
Taking the Best Working Small Tire Shyt Box & making it Greater Than Before!

3050 lbs.
Pump Gas 434
Glide/5800 Stall
4.10 Rear Gears
Car Detuned for high 9s/low10s @ 133-34 mph
March 25, 2021, 02:47 PM
qtrrcr
Bryan, kudos to you, going rounds last night. And congats to Andy for winning.
March 25, 2021, 02:55 PM
B KING
Thanks Scott, started today OK with a .000 against Justin Lamb. I have a possible bye in the 2 round.
Justin paid me back in the 2nd round.
This message has been edited. Last edited by: B KING,
1980 Camaro
Taking the Best Working Small Tire Shyt Box & making it Greater Than Before!

3050 lbs.
Pump Gas 434
Glide/5800 Stall
4.10 Rear Gears
Car Detuned for high 9s/low10s @ 133-34 mph
March 26, 2021, 08:02 AM
DragRaceResults
March 26, 2021, 08:08 AM
DragRaceResults
Racing continued at the K&N Spring Fling Million presented by Optima Batteries on Thursday with the Moser Engineering $30K. Four hundred and forty racers lined up for a shot at the $30,000 top prize. For the third consecutive day racers battled strong winds that seemed to change speed and direction on a whim. The changing conditions added to the challenge as racers battled not only the weather but a deeply talented field of competitors.
As the rounds progressed throughout the day, twenty competitors remained standing in round six. Those included the four remaining Gearwrench Pro class cars of Niki Thomas, Josh Fuerstenberg, Kyle Rizzoli, and Randy Biddle Jr. Thomas defeated Fuerstenberg and Rizzoli moved past Biddle to advance to round seven.
The round six winners in Super Pro included Dylan Hough, Dave Meziere, Hunter Patton, Shannon Justice, Shawn Hart, Don Butkiewich, Dustin Hentges, and Austin Williams.
Round seven kicked off with the Gearwrench Pro final which saw Thomas advance when Rizzoli's Camaro launched hard right at the hit coming close to hitting the retaining wall. With the win, Thomas collected the $500 Pro class bonus and advanced to round eight of Super Pro.
Dylan Hough and Hunter Patton opened round eight of Super Pro. Patton's .014 take .007 was no good as Hough was .007 and dead four to advance! Williams fell behind at the hit against Meziere but posted a dead-on three 4.613 to take the .006 victory when Meziere ran two above his 4.71 dial.
Don Butkiewich advanced to the quarterfinals when Justice turned it red by .001! Dustin Hentges used an .018 light and a dead zero 6.180 lap to moved past Hart.
Only five racers remained as we moved into round nine. Hentges drove his '69 Camaro past Williams after grabbing a .009 to .028 lead at the hit. Thomas posted a .019 package to move her S-10 past the dragster of Butkiewich who was .021 at the tree and two above his dial. Dylan Hough had the bye to advance his dragster to the semifinals.
With three cars remaining in the semifinals, Hentges earned the bye guaranteeing a door car in the final for the second consecutive night. Thomas posted her third straight 6.33 but came up short when she missed the tree. Hough punched his ticket to the final with a .010 light and a one over 4.591 lap which ended Thomas' evening.
With a door car versus dragster final for the second straight night, would we see another door car victory or could Hough win one for the dragsters? Hentges grabbed a .006 to .014 advantage at the hit and held on for the win posting a 6.186 on his 6.17 dial. Hough trailed with a two over 4.606 in the loss.
Hentges' Camaro held up just long enough to win the race but wouldn't start at the end of the track which delayed his winners circle celebration. Dustin earned the Moser Engineering $30,000 check along with a Spring Fling Sparco driving jacket for his victory.
With two of the preliminary races completed, the Spring Fling Million moves into the Million main event on Friday. One lucky racer will win a guaranteed $250,000 but could win as much as $1,000,000 if there are over 475 entries. Prior to the Million main event, racers can take a shot at the Brodix Run for the $50,000 starting at 8am on Friday.
Promoters Peter Biondo and Kyle Seipel will pay $50,000 if any racer can post a perfect package during the Brodix Run for the $50,000! Million entrants will receive one time trial on Friday followed by eliminations in the main event.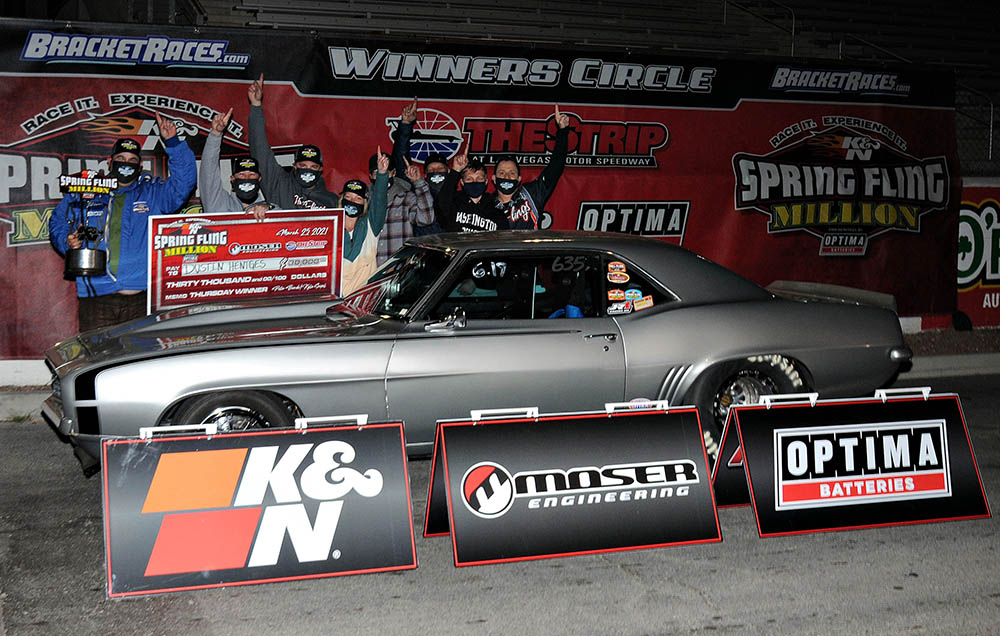 March 26, 2021, 08:45 AM
B KING
Wow, to the Pro Class Racer's! A win on Wed. & Semi finals on Thurs.
1980 Camaro
Taking the Best Working Small Tire Shyt Box & making it Greater Than Before!

3050 lbs.
Pump Gas 434
Glide/5800 Stall
4.10 Rear Gears
Car Detuned for high 9s/low10s @ 133-34 mph
March 27, 2021, 08:41 AM
442OLDS
Congratulations to Bob Utner on his big win last night.
March 27, 2021, 09:13 AM
DragRaceResults
Day number four at the K&N Spring Fling Million presented by Optima Batteries began with the Brodix Run For The $50,000. Racers took their best shot at laying down a perfect package which would earn them a $50,000 payday.
Each pair in the Run For The $50,000 brought excitement as racers took aim at a .000 reaction and a dead on zero lap. After numerous close calls and at least two -.001 packages, Robbie Gear won a set of Brodix SR20 Cylinder Heads for his .002 package. Megan Lotts won $2,000 with her .003 package and Troy Williams Jr. won an entry into the 2022 Spring Fling Million with his .003 package.
With the Brodix Run For The $50K complete, racing moved into Million Dollar Friday at the K&N Spring Fling Million! Two hundred and thirty-one competitors entered the Million main event which set the winner's purse at $250,000.
The fields in both Gearwrench Pro and Super Pro included a who's who of bracket racers from over 30 states. The Pro field was absolutely brutal as the small field of twenty-two racers were some of the best in the country. As an example, the opening pair of the Spring Fling Million saw Kyle Rizzoli and Nick Hastings square off. In that pairing both drivers were .00x with Rizzoli sending Hastings to the buyback window.
As the day progressed, racer's million-dollar dreams were crushed as they fell from competition while those remaining chased fame and fortune. Going into round five, only three Gearwrench Pro drivers remained while there were twenty racers left in Super Pro.
Racers that fell one round from "the split" included Randy Biddle Jr. in Pro and Rod Taylor, Shawn Langdon, Ryan Mangus, Dylan Hough, Randi Lyn Shipp, Val Torres, David Myhre, Sean Shaffer, Austin Williams, and Shane Carr in his second entry in Super Pro.
The remaining twelve racers met in the lanes for round six and quickly worked out an equitable split. Once the payout was determined, Nick Hastings and Justin Lamb squared off in the Gearwrench Pro class final. Lamb missed the tree for the first time all day sending Hastings to the quarterfinals. Hastings also collected the $500 Gearwrench Pro bonus.
Round six of Super Pro saw Shane Carr fall to Matt Lee by virtue of a -.003 red-light. Alexis Thompson advanced when Jon Corbin was -.003 too quick in his '68 Camaro. Hunter Patton turned it red to advance Val Torres Jr. and Peeps Pennington did the same against Bo Butner. Kris Whitfield used a .009-pack to stop AJ Ashe and his Grand Am.
The quarterfinals included five dragsters and the lone door car of Nick Hastings. Nick's Mustang was sporting a damaged rear bumper from an off-track accident a couple of rounds earlier. Leaving off the bottom, Hastings was .006 to Butner's .003 at six cars. At the stripe, Bo got there first by .001 to earn a bye to the Spring Fling Million final round.
Whitfield advanced past Lee by .001 as well when his .016 light and .011 over 4.661 was just enough to stop Lee's .018 light and .010 over 4.740. Torres used a .005 to .035 reaction time advantage to move past Thompson's dead on five lap.
With Butner holding the bye run by virtue of his .003 reaction, Whitfield and Torres would meet in the semifinals. In the round of three, Kris Whitfield earned his spot in the Million final after his .017 one above two effort stopped Torres. Speaking of stopping, Torres parked it at the stripe to go .025 over after letting go .025 in the loss.
This setup up a great matchup for the K&N Spring Fling Million final round. Bo Butner, better known for NHRA Pro Stock and NHRA Class racing, was looking to add a big dollar bracket race win to his resume. Whitfield, a 17-time track champion at Bandimere Speedway and NHRA Super class star, was looking to fulfill his dreams of winning the Million.
After a brief discussion of the final round payouts, both drivers suited up for their first Spring Fling Million final. In the first all-dragster final round of the week, Bo Butner would etch his name in the history books when Whitfield missed the tree. Butner posted a .013 dead on three lap (4.533) that more than covered Whitfield's .034 reaction and -.003 under 4.646 effort.
After the final, the celebration was on! The winner's circle was a rowdy bunch as the Butner team celebrated with friends, Vegas showgirls, a limousine, and more. As the party wound down and photos were taken, Bo Butner and crew loaded in the limo and headed to a luxury suite at the Cosmopolitan for the night. In fitting fashion, "We are the Champions" was blaring from the limousine's speakers!
And with that, Million Dollar Friday came to a close but there's still more racing to come. Racers will have one final shot at glory at the K&N Spring Fling Million with the FTI Performance $30K Saturday. Prior to the $30K, twenty-five randomly chosen racers will compete in the Spring Fling Reaction Time Challenge. Those racers will have the chance to win money by posting a .00x or .000 reaction. In addition, the Fling staff will announce the Todd Barton Design Best Appearing Car award on Saturday.
This message has been edited. Last edited by: DragRaceResults,